THE CAPTO COACHING PROCESS
During this 1 hour lesson, we will use Video Analysis and CAPTO to analyse Putter Measurements, Analysis of straight and breaking putts & Analysis of your green reading technique.
All of these areas are crucial to take data upon to get you putting your best and lowering your scores.
During the lesson we will work through proposed changes within your set up, putting stroke & Equipment whilst using specific training aids to assist with your learning and understanding.
​
We will utilise drills and re testing (if required) to help you with your continuous development
Following the Learn element of your putting lesson, we will start to implement your changes into real life putting situations. This will be undertaken through drills and skills testing to help your progression going forward.
​
If requested, CAPTO analysis can be emailed to you along with lesson notes.
CAPTO Frequently Asked Questions
WHAT IS CAPTO?
---
CAPTO Putting is a revolutionary new training and fitting system that gives golfers immediate and accurate data on their putting in real time and in real outdoor conditions. Used by the worlds best putting coaches such as: Phil Kenyon, David Orr & Andy Gorman, the CAPTO putting analysis technology gives the golfer a simple but incredibly detailed feedback system for all the movements and motions in their putting stroke. It also can sense how the ball is struck and how far it would travel on a flat green of varying speeds. Capturing data at 400 fps CAPTO allows us to measure and analyse all key mechanical an biomechanical parameters of putting.
---
WHAT PARAMETERS DOES CAPTO MEASURE?
---
The data provided by the sensor allows us to measures over 30 putting parameters: Face angle, Shaft angle, Lie angle, Face rotation, Shaft rotation, Lie rotation, Club Path, Angle of Attack, Sweet Spot, Kernel, Face to arc, Shaft to arc, Handling, Trembling, Swing length, Backswing time, Forward swing to impact time, Total swing time, Tempo, Club directional speed, Club height speed, Ball speed, Ball direction, Launch, Lie to green / Lie deviation, Directional acceleration, Height acceleration, Energy dispersion, Torque dissipated energy, Forward press angles and time analysis
---
3D PUTTING MOTION
---
CAPTO gives the ability to look at the 3D reconstruction of your putting strokes, with the possibility to see your trajectory, the ideal trajectory and all the rotation planes. This is a fantastic tool when diving deeper into the biomachanical elements of your putting stroke.
---
WHAT DO CAPTO PUTTING LESSONS INCLUDE?
---
We will start the session by getting your putter calibrated to the CAPTO system so we are getting 100% accurate results. We will then undertake a full putting analysis using CAPTO Putting Precision Technology to determine your stroke profile and what is happening through your set up, back stroke, through stroke, impact and post impact. Joe will use this data to provide comprehensive coaching using corrective drills and exercises to help you acheive your goals and improve your putting performance. Joe will breakdown what is most important areas of improvement to get you putting better and provide you with a plan going forward to get you putting like an expert!
---
HOW MUCH IS TUITION USING CAPTO?
---
CAPTO putting tuition is priced at £45.00 for 60 minuets for an outdoor session & £55.00 for an indoor stroke analysis session. Why not save some money and buy my Capto lesson package for £150.00. Perfect to get you putting your best! Having a block of putting lessons allows us to work together to achieve goals and track your putting performance. It also gives Joe the chance to dive deeper into your putting stroke and get you holing more putts.
---
WHAT DOES PGA MASTER PROFESSIONAL PHIL KENYON THINK OF CAPTO?
---
"Capto I believe it's one of the most innovative putting technologies that has come to the market in the last few years.
As a coach the ability to measure my students out on the green across a variety of different putts with different distances and different breaks... I think it's invaluable!
Being able to go out on the golf course and measure the player into the environment they are performing it's fantastic also.
It's a very versatile and functional device. It's light weight and the student will hardly realise it's on the golf club" - Phil Kenyon - PGA Master Professional & Coach to Justin Rose, Tommy Fleetwood & Matt Fitzpatrick.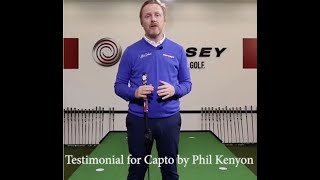 ---
---